In a plague killing humans and economies, one country is mounting a counterattack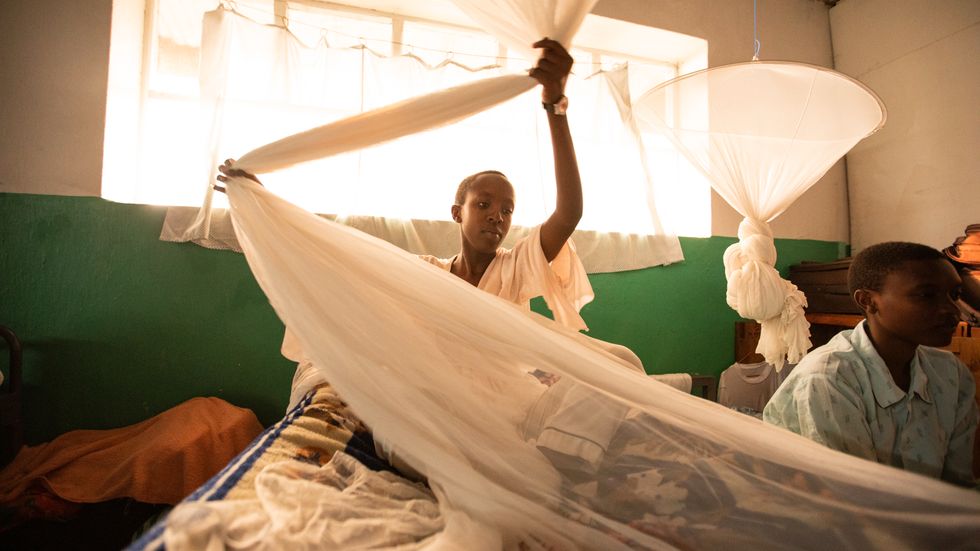 The world's most common disease costs billions to fight, and most countries are unable to beat it. But one country goes against the tide – with the help of people used as "human baits". This is how they bucked the trend.
BUGESERA He sits on a wooden bench in the middle of the night in the village of Ruduha in southern Rwanda. His pants are rolled up to the thighs and his legs are bare. In one hand he holds a flashlight, in the other a small glass tube.
Vincent Niyindorera has one of the world's most unusual professions. He is a living mosquito bait, waiting to catch deadly malaria mosquitoes. That job earns the father of five 60 dollars a month for two nights of mosquito hunting.
The night is pitch black. The sky is full of twinkling stars and from the bushes comes a serenade of hundreds of crickets. Suddenly, Vincent bends forward, directs the flashlight to his lower leg and, with a light touch, applies the small glass tube to his skin. Captured. Yet another bloodthirsty malaria mosquito can be transported to the laboratory, where better anti-malaria measures are being developed.
It benefits us all, not least financially.
On this night alone, Vincent manages to catch several hundreds of malaria mosquitoes.
"I have never been bitten. One must take the mosquito just before it bites," he says, explaining that the mosquito gets paralyzed by the light.
"It's a good job that adds to my income from rice cultivation. But above all, it helps fight malaria. It benefits us all, not least financially."
Fighting malaria is just as much about financial survival and economic development, as it is about the disease itself. Taking its consequences for families, to companies, countries and even entire continents into account, obliteration of the plague would bring in billions.
Malaria is estimated to cost Africa $12 billion each year in healthcare, sick leave, reduced productivity, and lost investment and tourism revenue, according to John Hopkins Bloomberg School of Public Health. It has negative effects on poverty reduction and economic growth. The gross domestic product of some countries may decline by up to 5–6 percent due to malaria epidemics. In addition, malaria affects just over 200 million people and kills over 435,000 individuals each year.
These figures have raised concern as the fight against the disease has stagnated, and the number of cases has increased over the past two years, according to the World Health Organization. Human life as well as economic development are at stake.
But in Rwanda, something exceptional has happened. The country has managed to reverse the malaria trend, and is now a hopeful exception in the world. This progress was achieved with the help of organizations like the Global Fund, which focuses on combating several widespread infectious diseases.
Sweden is a major donor and has paid almost SEK 11 billion since 2001. It was announced recently that Sweden will contribute an additional SEK 2.85 billion over the next three years.
That is why Rwanda, besides Zambia, now is world leader in eliminating malaria.
In an exclusive interview with Svenska Dagbladet, Microsoft billionaire and philanthropist Bill Gates says that Rwanda is leading the way for other malaria-affected countries.
"Rwanda is a very poor country and has the tragedy of the genocide. But they have a very effective health system and have prioritized investing resources in local health workers. That is why Rwanda, besides Zambia, is now world leader in eliminating malaria. They show the way", Bill Gates told SvD.
Before 2016, Rwanda had a sharp increase in the number of malaria cases. But since then, both the number of serious cases of brain malaria and the number of malaria deaths have fallen by half, according to Rwanda's Biomedical Center.
At the same time, Rwanda reported 430,000 fewer malaria cases between 2016 and 2017, according to the World Health Organization. There are no exact data on what this means for the economy. But the country's generally improved health situation has coincided with a strong economic growth of around 7 percent per year.
"With a healthier population, the whole economy gets a boost. This is extremely important for Rwanda, which is dependent on human capital as we do not have a commodity-based economy", Parfait Uwaliraye, director general of Rwanda's Ministry of Health, told SvD.
How was it possible to reverse the trend? Vincent's nightly mosquito hunt under the stars is an important part of the puzzle. By analyzing the mosquitoes, entomologists have been able to better direct efforts towards effective practices such as impregnated mosquito nets, mosquito spraying of houses and advice to the population to clear bushes and stagnated water.
"We have found that the mosquitoes have changed their behavior. They bite earlier in the day and now even outdoors", says entymologist Jackie Mupfasoni, who receives Vincent's glass tubes in her laboratory in the village.
"They have learned that people close doors and windows after dusk, and seek blood in other ways. The fight against malaria must be adapted to the new way of life of mosquitoes."
The new strategy against malaria also depends on just over 58,000 local health workers who work out of their own homes. Some villagers have learn to carry out blood tests for malaria and can provide medication. They also check that residents have mosquito nets and get houses sprayed. Through them, many malaria cases are caught at an early stage – therefore, fewer become seriously ill and die. All of this is funded with contributions from the Global Fund and other organizations.
We all got malaria at the same time and were extremely ill with high fever.
The health workers have brought great improvements to the economies of ordinary families. Svenska Dagbladet meets the mother-of-four Yvonne Ndayisaba in the village of Rutaka in southern Rwanda. Standing among lush banana plants and dry sugar canes, she tells the story of the dramatic weeks in 2016 when everything was ruined for the rice-growing family.
"We all got malaria at the same time and were extremely ill with high fever. I and three of the children ended up in the hospital and my husband was out for a month. All our rice rotted. We lost the entire harvest," she said. "Our economy collapsed when half of the year's income disappeared in a black hole. In addition, we had to pay 10 percent of the health care costs and medicines. We borrowed money from the family."
A repeat was avoided after the village received four local health workers. The family still suffers from malaria around twice a month, but they are now treated quickly. In addition, they have received better mosquito nets, says health worker Victorie Bihoyiki, who visits the family on the way home at dusk.
"I have seen many families having their economies shattered by malaria before. Everything stops. You can't work in the fields, the kids can't go to school, you have to pay for medicine," she said.
The Ndayisba family is a typical example of how malaria can hit an economy – even that of an entire country. The family's income from rice crops is 150 dollars per year. When they fell ill, they lost half the harvest – 75 dollars. If something similar would affect the district's 7,000 families, almost all of whom live on rice cultivation, it would mean half a million dollars in income gone because of malaria.
A malaria outbreak could affect virtually the entire population of Rwanda, most of which lives on agriculture, and thus the economy of the whole nation. The same goes, of course, for all sub-Saharan African countries, running the risk of grave economic and social effects.
However, in Rwanda, the trend is now going in the opposite direction, said 20 years-old economics student Scovia Mutesi at the district's boarding school. Proudly, she shows how all 150 beds in the girls' dormitory have been fitted with proper mosquito nets. Not a single student has been sent to hospital with malaria this year. Six years ago, they had at least one case a week, she said.
"There has been a change in attitude. There is much more talk about malaria today, that you have to spray houses and clear stagnant water. As chair of the student union, I often warn students that they can die of malaria".
It is not only in schools and villages in Rwanda that much has been gained with the new health strategy. Seen in a larger perspective, the fight against malaria can be a big win for the world, according to the World Health Organization. With an investment of 34 billion dollars in the fight against malaria in the 29 worst-hit countries, the GDP gain could be as much as 283 billion dollars, equivalent to SEK 2,800 billion, by 2030, according to a recent study.
But there is a dark cloud that may overshadow Rwanda's bright trend, says Aimable Mbituyumuremyi at Rwanda's Biomedical Center. Climate change, with warmer and more extreme weather, increases the risk of malaria. Already, the disease has spread to areas above 1,500 meters in altitude and is now endemic throughout the whole country. With a changing climate, more and more people have also switched to rice cultivation – the perfect breeding ground for malaria mosquitoes.
"The climate threat and the risk of mosquitoes developing resistance are our major challenges," warned Mbituyumuremyi. "We have to be vigilant. The fight against malaria is far from won."